UPDATE: During Summer I Session 2023, the Department of Information Technology will be offering a Cybersecurity Seminar. The seminar will include a "domestic study away" component in Washington, D.C., June 12-16, and will provide IT students with the opportunity to examine critical issues in information security, privacy, and the overarching impact of information security on society. Participants will also have the opportunity to engage with other students and IT professionals from around the country on issues impacting our nation. Tours will likely include the NSA headquarters, The United States Patent and Trademark Office, and the National Cryptologic Museum. Students will have time to visit museums and other popular tourist attractions in and around Washington D.C. In addition to the DC trip, the course is slated to include an optional trip to Georgia's Cyber Innovation & Training Center in Augusta, Georgia.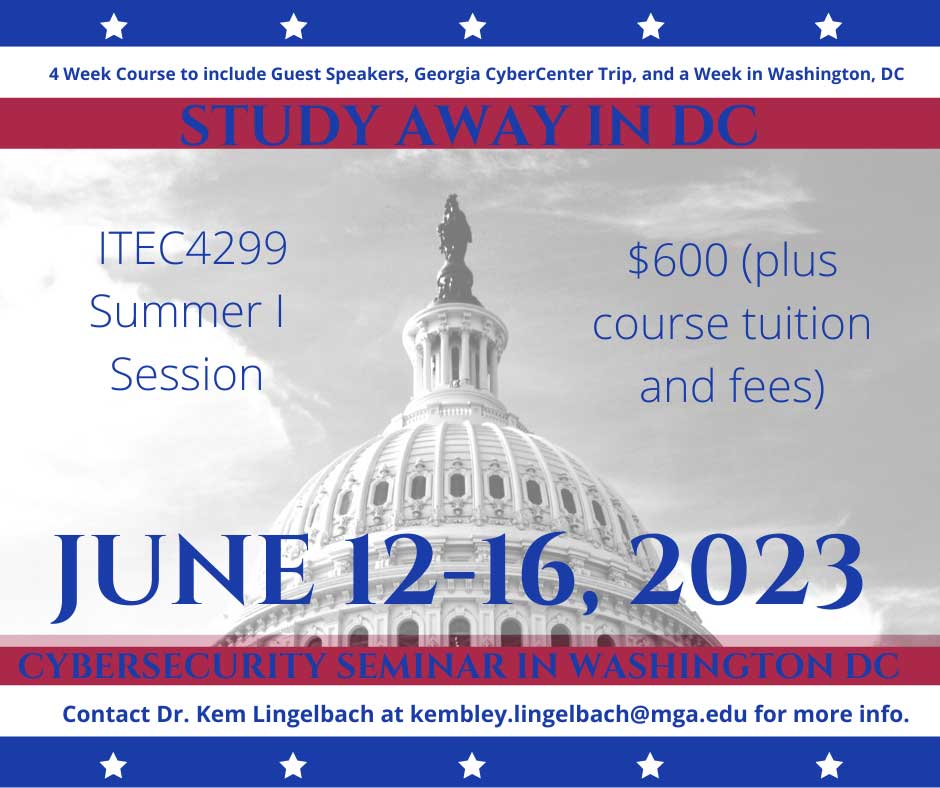 What topics will be covered? 

This program will focus on current issues surrounding the protection of U.S. interests at home, abroad, and in cyberspace. You'll engage with leaders in the field and gain access to organizations throughout D.C. with national security connections. 

What will you take away from the seminar? 

Through this experience, you'll gain an insider's view of the U.S. national security landscape, enhance your professional networks and explore potential career paths. You may also earn academic credit. 

Academic Credit: The Department of Information Technology will offer a special topics course, ITEC 4299–Cyber Security Seminar, as an elective course for students who would like the opportunity to participate in an academic "domestic study away" seminar in Washington D.C. This is a Summer Short Session course to begin May 17 and end June 14. The coursework includes trip preparation, journaling, possibly guest speakers, and an optional trip to the Georgia Cyber Innovation & Training Center in Augusta, Georgia.  
NOTE: This course is also available to graduate students, and interested students should contact their advisor regarding this opportunity. 
Seminar Fees: $600 (plus course tuition and fees) 

Your $600 will include roundtrip flight, ground transportation, lodging, and some meals. Please note that you will be responsible for some meals and incidental charges during the week. Details will be shared in class.  

If you are interested in taking part in this exciting and rewarding "study away" opportunity, please contact Dr. Kem Lingelbach at kembley.lingelbach@mga.edu.