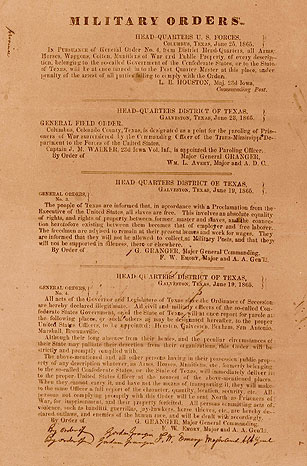 In this message to the Middle Georgia State University community, Dr. Andrew Manis weighs in on why the American holiday Juneteenth takes on even greater significance in 2020. Among the research focuses of Dr. Manis, a Middle Georgia State history professor, is the history of race relations in America. He is the author of several books, including a study of race relations in Macon titled Macon Black and White: An Unutterable Separation in the American Century. 
"Juneteenth has been in the news of late, but the event itself dates to the late 1800s. Juneteenth is an annual holiday, celebrated mostly by African Americans, commemorating the defeat of the Confederacy by Union forces. Its larger meaning is connected to the end of the Civil War and therefore the end of slavery. It marks June 19, 1865, as the date that Union Gen. Gordon Granger arrived in Galveston, Texas, to inform enslaved African Americans of their freedom and that the Civil War had ended. This was more than two years after slaves were formally freed through the Emancipation Proclamation, but its impact was slow to arrive in Texas due to the low number of Union troops available for enforcement. As to the name itself, it comes from the blending of June and nineteenth to become 'Juneteenth.'
 "Juneteenth is historically significant because it serves as an eye-opening revelation that slaveholders and wannabe slaveholders in Texas were essentially still fighting the Civil War two months after the Confederacy's Gen. Robert E. Lee surrendered to the Union's Gen. Ulysses S. Grant in Appomattox, Va. And so, the 'freed' slaves in Texas continued to be treated as if slavery were still in effect.
"I think that in 2020, Juneteenth assumes a mantle of even greater significance. It takes place in the context of protests for racial justice after the murders of George Floyd and others. This year's observance reminds us that we as a nation continue to grapple with White Supremacy culture. We continue to reckon with the Civil Rights Movement's incomplete defeat of legal segregation. African Americans continue to fight off what could be considered modern slavery in the forms of systemic and individual racism and an often broken justice system.
"With new and renewed interest in Juneteenth, perhaps 2020 can be a tipping point – a year that more of us join together to recognize the nation's sinful legacy of slavery, confess its ongoing impact, and work to finally make 'liberty and justice for all' true in every respect for all Americans."
Image: General order No. 3 of June 19, 1865, issued by General Gordon Granger to enforce the Emancipation Proclamation of January 1, 1863 in the Department of Texas. (Public domain.)