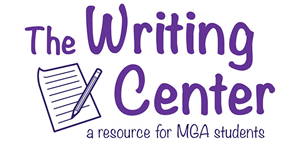 The Writing Center is open for Fall 2020!
The Writing Center provides free assistance with writing assignments for students in all classes, in all majors, and at all levels.
Students can schedule a video conference at bit.ly/MGAWriting.
Alternately, students can visit The Writing Center, Macon, from 11-6, M-Th.
Selected hours are offered on the WR, Cochran, and Dublin campuses; for options, see schedule on bit.ly/MGAWriting.
For more information, please contact Dr. Sharon Colley at sharon.colley@mga.edu.