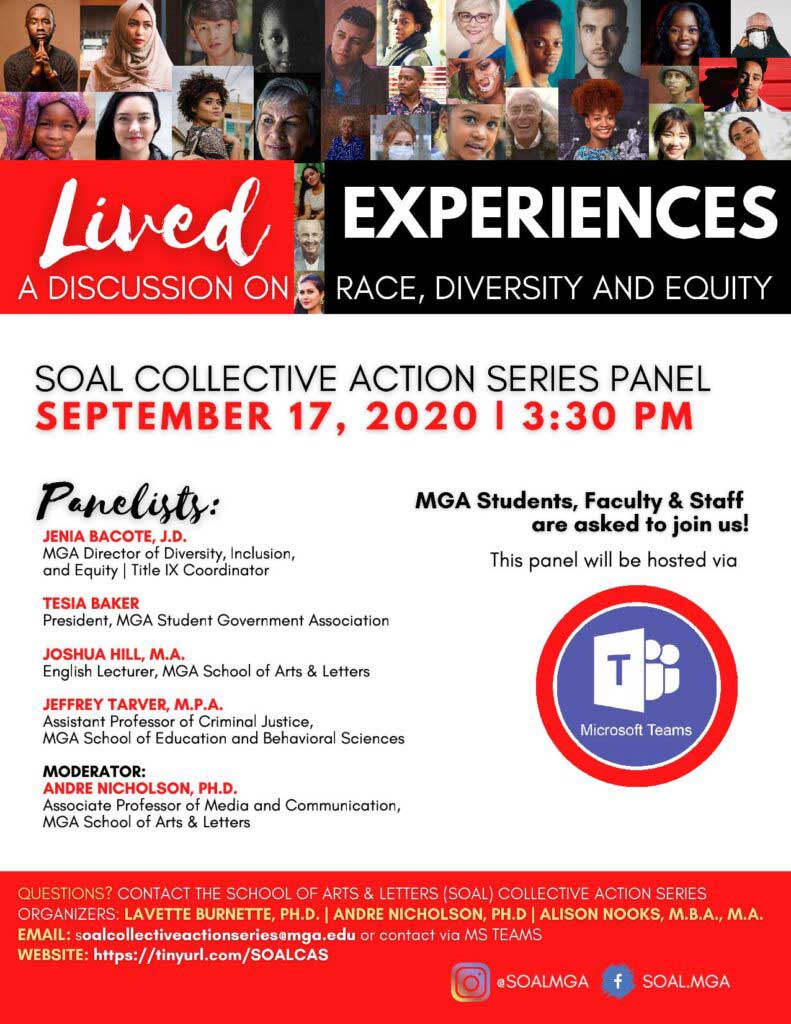 President Blake issued an inspiring charge of ENGAGEMENT in his President's Message on Racial Justice (in June) that we must create opportunities to "acknowledge our differences and then consider how that new knowledge can shape our own outlook and behavior. In doing so, we are empowered to see our common humanity, rather than simply being self-advancing individuals." 
To fulfill his charge, the SOAL Collective Action Series will present the Lived Experiences: A Discussion on Race, Diversity and Equity. This panel discussion is open to MGA students, faculty and staff!
The panel will share the impact of racial inequity within and outside of higher education and discuss opportunities to move forward with a renewed purpose. We will have a candid dialogue with our panelists, moderator, and participants. We hope to engage about our lived experiences in order to better understand our collective experience. Please make plans to join us!
EVENT DETAILS (Remember to add to your calendar):
The SOAL Collective Action Series PANEL: 
Lived Experiences: A Discussion on Race, Diversity and Equity
Tuesday, September 17, 2020
3:30 pm via TEAMS
The panelists include:
JENIA BACOTE, J.D.
MGA Director of Diversity, Inclusion,
and Equity | Title IX Coordinator
TESIA BAKER
President, MGA Student Government Association
JOSHUA HILL, M.A.
English Lecturer, MGA School of Arts & Letters
JEFFREY TARVER, M.P.A.
Assistant Professor of Criminal Justice,
MGA School of Education and Behavioral Sciences
MODERATOR:
ANDRE NICHOLSON, PH.D.
Associate Professor of Media and Communication,
MGA School of Arts & Letters
Chat Room Facilitators:
LaVette Burnette & Alison Nooks
To learn more about the School of Arts & Letter Collective Action Series, please go online to:
https://www.mga.edu/arts-letters/cultural-programming/collective-action-series.php
and/or email the series hosts: soalcollectiveactionseries@mga.edu
SERIES HOSTS:  
LaVette Burnette, Ph.D.
Associate Professor of Media and Communication
School of Arts & Letters
Andre Nicholson, Ph.D.
Associate Professor of Media and Communication  
School of Arts & Letters

Alison Nooks, M.B.A., M.A.
Online Academic Program Coordinator &
Media,Culture and Arts Faculty (Adjunct)
School of Arts & Letters 
Please use the LINK (below) to  join us via TEAMS on Sept 17 at 3:30 pm: