On November 11, 2020, our nation will celebrate Veterans Day.  On this day of tribute, we take time to thank, honor and remember our Veterans and our service men and women, who daily protect our freedoms and our democracy.  We remember those who have fought – and died – to defend our liberties and create a world where peace and justice are virtues for all people to embrace. 
Each campus will honor our Veterans with activities to create emails, letters, and cards for Veterans.  Information for those events can be found below.  For our community, MGA and Macon-Bibb County will host a Service of Remembrance, on Wednesday 11th November at 11:00 AM, at Coleman Hill.  I hope you will participate in our Veterans Day events, and recall the past and present service that so many have given to defend our freedoms.  
Cochran Campus
Veterans Day Appreciation, Writing Emails to Veterans
November 11, 2020
9:00 AM – 5:30 PM
Dublin Campus
Veterans Day Cards
November 11, 2020
11 AM – 1 PM
Location: LIB Lobby
Cards will be delivered to the VA Medical Center
Eastman Campus
School of Aviation Veteran Spotlight
November 9th – 13th
Veterans Day Celebration with refreshments
November 11th at 1 PM
Location: Flight Operations Lobby area
Macon Campus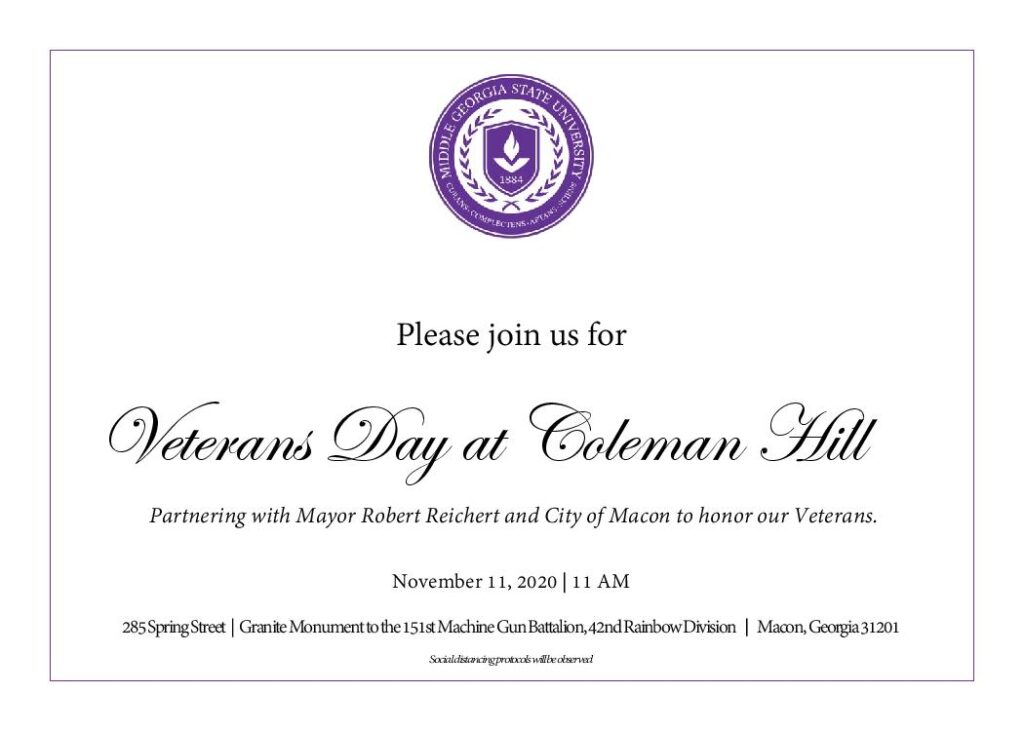 Missing Man Reflection Table
November 11, 2020
9 AM – 5:30 PM
Location: SLC Lobby
Veterans Ceremony
November 11, 2020
11 AM
Location: Coleman Hill
Warner Robins Campus
Veterans Day Cards
November 11, 2020
Time: 9:00 AM -4:00 PM
Location: Thomas Hall/Student Lounge
We stand united in thanks to both the generations that have now departed us, and also those to whom we can be grateful for their current military service.