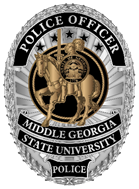 The MGA Police Department has some public safety updates to share to help keep all Knights safe on campus!
Knight Alert and Guardian App Test – Wed., March 3
In the event of a public safety emergency, severe weather, unexpected campus closure or other potentially hazardous situations, MGA students and employees are notified via a Knight Alert. To receive these important messages, ensure your contact information is up-to-date in your SWORDS profile.
On Wednesday, March 3, students and employees should receive test alerts in the following contacts:
text message (must have a number within your SWORDS cell phone field)
phone call
email
Guardian app notification
If you do not receive messages in the above formats, please follow these instructions or download the Guardian app.
Guardian App
This safety app for students and employees works with MGA Knight Alerts, providing notifications of emergency events on campus. It is improved and includes:
One-touch dialing for public safety/mental health phone numbers
Links to campus maps and student resources for health and safety
An anonymous tip-submission feature if you see or know of a crime or dangerous situation
Emergency call buttons to connect you and send your location to MGA Police or 911 dispatchers
**Download on Google Play or Apple** Search for "RAVE Guardian." Here is a helpful short video.
Knight Patrol
A new group of public safety officers, the Knight Patrol, will soon be working alongside MGA Police Officers to provide security and safety services on campus. The Knight Patrol will start on the Macon campus and will soon be assisting on all campuses. They'll be visible in grey polo shirts with "Public Safety Officer" on the back.
Knight Patrol officers will be recruited from among MGA students – especially those majoring in Criminal Justice – and will receive training in security protocols, first aid, and incident response. They will provide front-line services, allowing campus police greater readiness. The Knight Patrol may perform a number of non-emergency student-, security-, and safety-oriented tasks, including:
Checking buildings
Responding to minor medical calls
Helping individuals with car trouble
Providing support for special events
Providing an additional, visible security presence on campus
As always, if you have any questions about public safety at MGA, please reach out to the MGA Police Department at police@mga.edu.