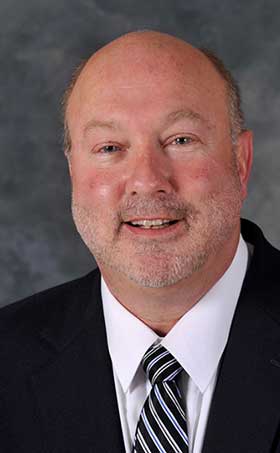 MGA To Host Memorial Service For Dr. Stephen Morse, School of Business Dean
Middle Georgia State University (MGA) will pay tribute to the late Dr. Stephen Morse, dean of the School of Business, at a memorial service scheduled for 4 p.m., Wednesday, April 21, at the Recreation & Wellness Center on the Macon Campus.
Morse, who became the School of Business's dean in summer 2019, died on April 11, surrounded by his family. He was 64.
"Steve will always be remembered for not only his expertise as a brilliant economist and enthusiasm for his work, but also for his warmth and positivity as a coworker, teacher, and friend," said Dr. Christopher Blake, MGA's president. "Showing the same level of passion for his students and his subject as for his beloved Georgia Bulldogs, Steve's tenure as dean of the School of Business has been marked by outreach to our communities. His legacy will be one of community-oriented and student-focused learning, of innovation, and – most importantly – of friendliness, collegiality, and respect."
Originally from Whitesburg, Ga., Morse earned his bachelor's degree in agricultural and applied economics from the University of Georgia, and his Ph.D. in the same subject from the University of Tennessee. As an economist, he taught courses in airline and hotel revenue management and price strategy, hospitality and tourism, and economic and business demand analysis. He was previously on the faculty and held administrative positions at the University of Tennessee, Western Carolina University, and Reinhardt University.
Morse was frequently quoted as an expert in the U.S. travel industry in leading news sources in the U.S. He tracked economic trends in the travel sectors in the Southeast and U.S. economies. He was a frequent speaker at national and state hospitality and tourism conferences, economic development conferences, and conducted workshops and seminars for regional and local tourism organizations, governments, and Chambers of Commerce to better understand the impact of tourist spending on the economic development of local economies. He conducted more than 225 customized keynote speeches, seminars, presentations and workshops on economic trends in travel and tourism to both public and private sector organizations across the U.S. His applied and practical research has been recognized by the hospitality and tourism industry with numerous industry awards. 
Morse's survivors include his wife, Mary Foster Morse; and sons, Chance Reed and Evans Reed.
Members of the MGA community who would like to contribute brief personal quotes to be used in a slide show at the memorial service may send them to abby.prince@mga.edu. In addition to hosting a memorial service, MGA is flying a memorial flag on all five campuses for a week. A replica of the flag will be framed and presented to his family afterwards.
The family has set up a scholarship fund in Morse's memory for students at the University of Georgia College of Agricultural and Environmental Sciences. Checks can be made payable to the UGA Foundation and mailed to UGA CAES, 117 Four Towers, Athens, Ga., 30602. Please include "Steve Morse Scholarship" in the check memo. To make an online gift, visit: https://t.uga.edu/6VV
Also, friends and colleagues are establishing a scholarship to honor Morse's legacy that will be made part of annual faculty and staff giving campaigns through the MGA Foundation. https://app.mobilecause.com/e/UrI0mA?vid=i4avh
Read Dean Morse's obituary here:https://www.hartsmort.com/obituary/DrStephen-Morse