Updates from MGA's Office of Financial Aid:
Payment Deadline for Fall 2021 2nd session courses regular registration is September 30, 2021, and late registration deadline is October 7, 2021. 
Please complete the 2021-2022 FAFSA application if you wish to attend either semester (Fall 2021, Spring 2022, and Summer 2022) 
It is never too early to apply for federal assistance for the 2022-2023 academic year. The application opens on October 1st. If you wish to get assistance with completing the application, please consider checking out the FAFSA completion webinar provided by the Georgia Student Finance Commission's Outreach Webinars.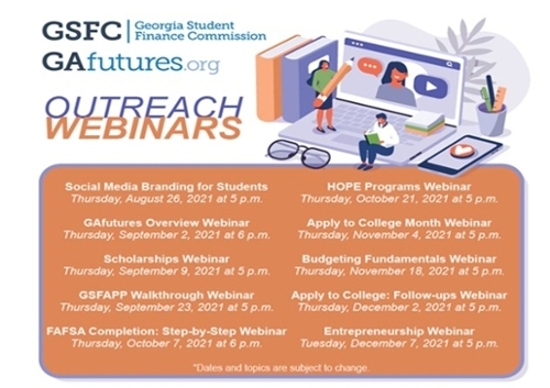 Dates for Campus bookstore aid usage
Need Additional Funding? You may qualify for COVID-19 Relief Funding. Apply today!