Sign Up for a Faculty/Staff or Commuter Meal Plan Today!
Sign up for a spring 2022 meal plan today and receive this limited-time offer until January 28, 2022.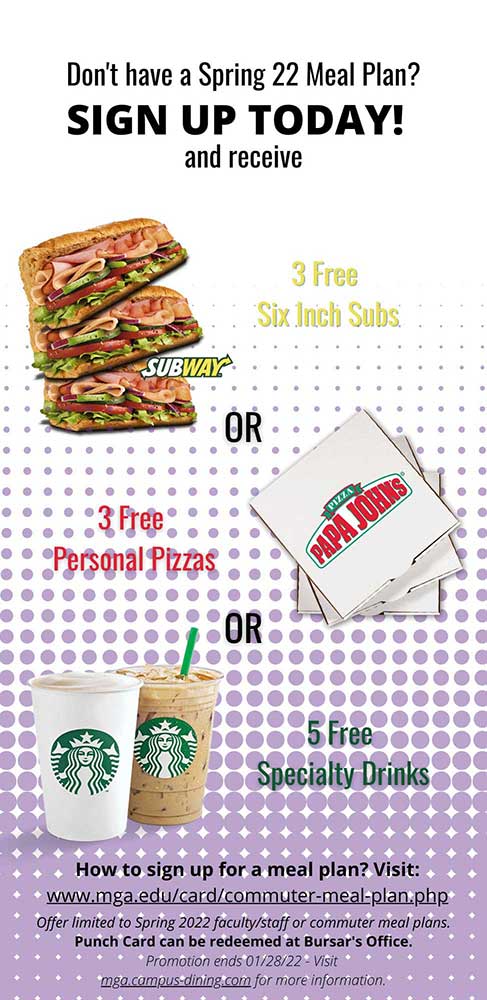 Faculty/Staff or Commuter meal plans allows a meal swipe to be used at any retail dining location on MGA campuses for a pre-defined meal combo. This includes Papa Johns, Subway, and Starbucks at Café Diem and Roberts Café, in addition to the dining halls. Meal plans eliminate the need to exchange cash and use debit/credit cards and make dining more convenient for meal plan holders by being able to swipe with the MGA Knight card. For more information and campus dining updates, visit our website: mga.campus-dining.com.
To add a faculty/staff or commuter plan visit: https://www.mga.edu/card/commuter-meal-plan.php

Visit our Instagram and Facebook @mgadining!

If purchasing a meal plan at the Bursars Office, incentive cards will be distributed at the time of purchase (Macon and Cochran). If purchasing a meal plan online, please pick up the incentive card at the Aladdin marketing office on the first floor of Macon SLC by the game room. If on the Cochran campus, please email erica.jackson@aladdinfood.com and she will set up a time to deliver your incentive card.

2022-2023 Dining Guide.