All Industry Job & Internship Fair & Professional Headshots
Tuesday, October 18 | 11AM – 2PM
Macon Campus | Hatcher Conference Center
The Center for Career & Leadership Development (CCLD) is looking for faculty who want to include the Fall All Industry Job & Internship Fair scheduled for October 18 in their courses. This opportunity will also include a professional photographer sponsored by the MGA Foundation and Alumni Relations for students and alumni to have a professional photo taken for their LinkedIn profiles and other online professional accounts. This event focuses on job and internship opportunities that are a good fit for students and alumni interested in business, accounting, marketing, human resources, IT, communications, humanities/liberal arts, social work and counseling entry-level/non-master's level roles, biology, math, government, law enforcement, healthcare administration, healthcare, non-profit work, and more. Faculty are invited and encouraged to bring classes to the event or include it as a class requirement or opportunity for extra credit.
So far, the CCLD has 26 organizations registered for the career fair and expects over 50 to attend. Visit this link on Handshake for updates on organizations that are registering – students can also use this link to see what organizations have said they are seeking. Students and alumni should dress in professional attire and bring resumes to the event. The CCLD will also offer a 15-passenger van for students to ride from the Cochran Campus to Macon for the event – if interested, they can contact Debra Mainor at debra.mainor@mga.edu.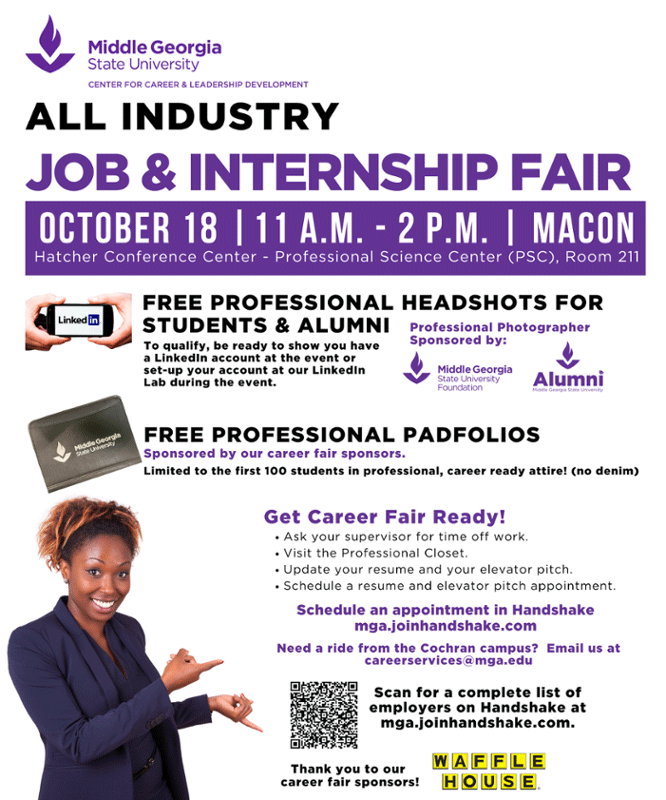 Companies registered so far include:
Aalto Scientific LTD
Air Force Civilian Service
Alabama Rural Ministry
Atrium Health Navicent
Aventiv Technologies
CB Smith & Associates, LLC
Columbus, Georgia Police Department
Crisp Regional Health Services
Democratic Party of Georgia
Georgia Department of Corrections
Georgia Department of Human Services
Houston Healthcare
Macon Housing Authority
Middle Georgia State University - Graduate Studies
Morris Bank
Perdue Farms
Positive Behavior Supports Corporation
Raytheon Technologies
Robins AFB - 402d Software Engineering Group
Savannah Police Department
Sherwin-Williams Company
Thiele Kaolin Company
Turf Masters Lawn Care
United Rentals, Inc.
Waffle House, Inc.
Yancey Bros Co
For faculty looking for other career fairs to refer students to, please encourage students to visit Handshake at https://mga.joinhandshake.com to get information on the Aviation Career Fair in Eastman on October 28, the Teacher Recruitment Fair on January 19 in Warner Robins, the Statewide Virtual Career Fair on November 2, and several virtual events hosted by the Georgia FinTech Academy. All MGA students can activate their Handshake accounts with their MGA email addresses.