Warner Robins American Government Class Hosts Mayor Patrick for Constitution Day
By Grace Adams-Square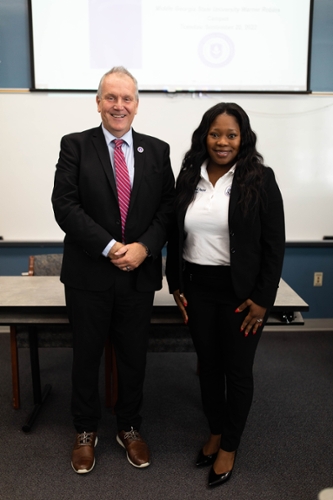 Honorable Mayor LaRhonda Patrick of Warner Robins and Dr. Christopher Blake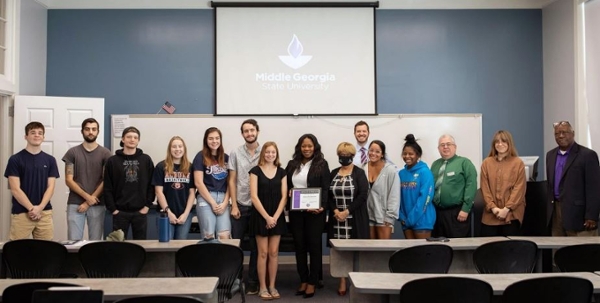 If you take an American Government class with Mrs. Adams-Square in the fall semester, you are guaranteed there will be some form of Constitution Day celebration in September. This semester was no exception. On Tuesday, September 20, the Honorable Mayor LaRhonda Patrick of Warner Robins spoke to students in the American Government class. Mayor Patrick was afforded a welcome by MGA President Dr. Christopher Blake and introduced by MGA Artist in Residence Charles Richardson. American Government students were prepared and participated in the question-and-answer session.
Preparation for the mayor's visit began on September 13. American Government students conducted research on Constitution Day. Seayrra Biggs researched the history of Constitution Day. Jaden Gatliff and Caleb Gutshall researched the history of Warner Robin's politics. Jeffrey Taylor and Justin Greene researched problems currently facing Warner Robins with a focus on housing. Victoria Harrison researched Mayor Patrick's campaign, including issues and campaign theme. All research was presented in class by the students using PowerPoint.

The Cochran campus was able to celebrate Constitution Day with the help of Dr. Corey Guyton, Director of Student Engagement. Each student was given a pocket Constitution book. The book can be used on all upcoming exams. MGA former Student Services Coordinator, Ashley Thompson ensured all Warner Robins students received a pocket Constitution book. Thank you to the Cochran Campus Bookstore for assisting with finding gifts to present to the mayor.