Students: Did you know that employers are more likely to hire someone with internship experience? Are you currently working a career or professionally related internship? Have you completed an internship in the recent(ish) past? If so, the MGA Center for Career & Leadership Development (CCLD) wants to hear from you!

If you haven't already, activate your Handshake account with your MGA email address at mga.joinhandshake.com. Then look for a new section titled "Experiences" to report your internship information. Whether your internship is or was for academic credit or not, the CCLD is trying to track where students are interning in order to better help future students find internship opportunities.

Students who report internships through the "Experiences" section will potentially be spotlighted on CCLD social media platforms and possibly become eligible to receive internship graduation cords.

For tips on preparing for an internship, watch CCLD's new video:


Questions? Email Dr. Heather McIntosh, assistant director for internships and career readiness, at heather.mcintosh@mga.edu.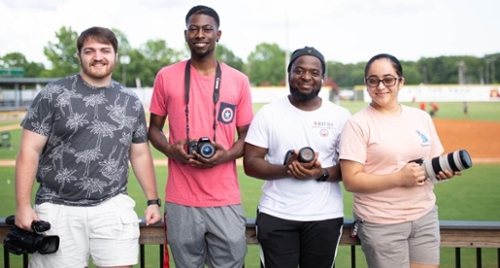 Recent MGA media & communication majors during their photography/videography internships with the Macon Bacon baseball team.