The last day of early voting is Friday, November 4! If you live in Macon-Bibb, you can vote early at these locations:

Macon-Bibb County Board of Elections
2525 Pio Nono Ave. Macon
8:30-5:30

Elaine H. Lucas Senior Center
(Located in Carolyn Crayton Park)
132 Willie Smokey Glover Dr. Macon
8:30am-5:30 pm

Theron Ussery Park Recreation Center
(Located in North Macon Park)
8:30 am - 5:30 pm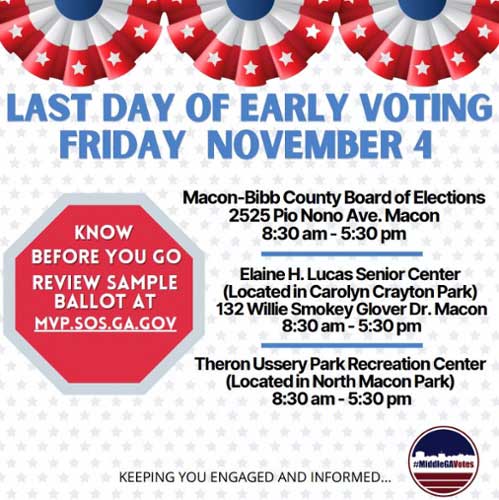 Know Before You Go - review a sample ballot at mvp.sos.ga.gov. 

#MiddleGAVotes is a non-partisan coalition of businesses, civic organizations, and colleges and universities in the region dedicated to increasing civic involvement and voter registration among their employees and, in the case of educational institutions, students. The goal of #MiddleGAVotes is to inspire, inform, equip, and empower all Middle Georgians to become voters. Watch for more from #MiddleGAVotes!